Calling all gamers and arcade enthusiasts! We've come up with a list of the top arcades to go to in London for the kids and the kids at heart.
Not only did we list them down but we also talked about what we thought of them. So whether you're a fan of console gaming or want a wave of nostalgia by playing retro arcade games, you've come to the right place.
1. Platform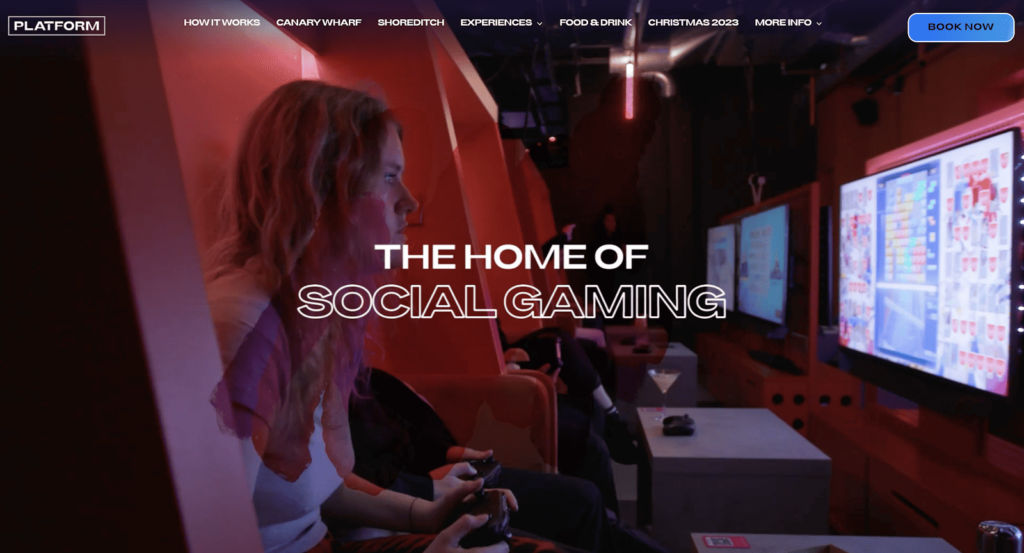 Website: https://experienceplatform.co.uk/  
Address: Crossrail Place in Canary Wharf
Contact Details: 020 4559 9419 | [email protected]
Operating Hours: Monday: 12:00 – 22:30
Tuesday: 12:00 – 22:30
Wednesday: 12:00 – 23:30
Thursday: 12:00 – 23:30
Friday: 12:00 – 00:00
Saturday: 11:00 – 00:00
Sunday: 11:00 – 22:00
Platform offers a next-level gaming experience with two venues in the heart of London. The variety of gaming options caters to different preferences, whether you're into competitive gaming or just casual fun.
The semi-private video game booths provide a personalized and immersive gaming experience. It's great for groups or individuals who want to enjoy games in a more intimate setting.
The combination of gaming and cocktails adds a classy and enjoyable touch. The package is perfect for date nights or gatherings with friends, providing 90 minutes of gaming and two cocktails per person.
The option for bottomless brunch adds a unique twist, allowing patrons to enjoy gaming alongside a variety of pizzas and bottomless beer, prosecco, or mimosas. It's a great way to combine gaming with a social and gastronomic experience.
The 90-minute booking format is well-suited for peak entertainment time. Additionally, the option to extend the gaming session provides flexibility for those who want to continue the fun.
Platform also caters to large groups and events, making it a versatile venue for celebrations, parties, or team-building activities. The flexibility to customize the experience adds to its appeal.
The option to inquire about on-site extensions and the responsive team adds a customer-friendly touch. It allows for spontaneous decisions to extend the gaming session if there's availability.
 2. Funland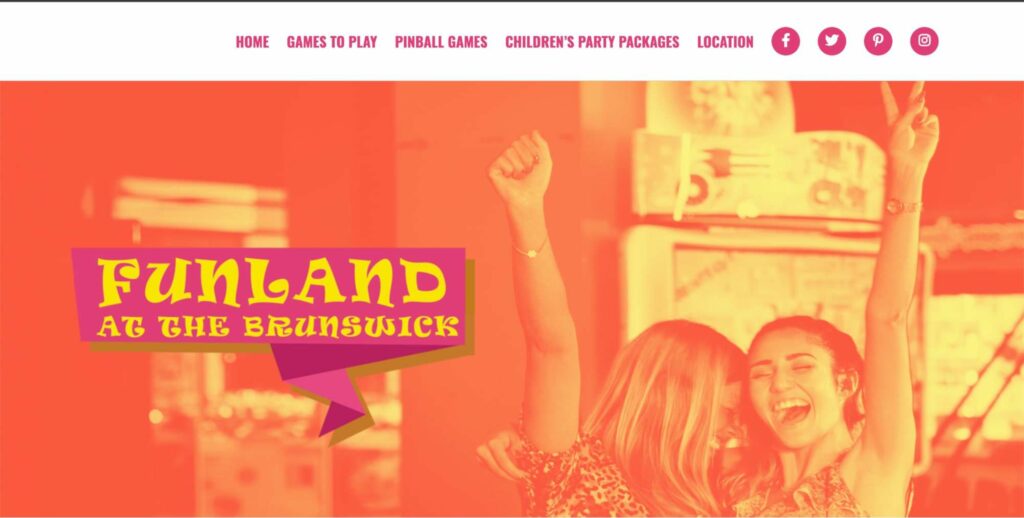 Website: https://fun-land.co.uk/
Address: 25, 27 Brunswick Square, London WC1N 1AW, United Kingdom
Contact Details: +44 20 7278 2809
Operating Hours: Monday-Sunday (10AM-10PM)
This arcade in Brunswick Square is an exciting and fun place where you can play pinball, different sports games such as shooting hoops, and music games where you can dance your worries away. You can win a lot of prizes as you collect tickets from the different games.
The energy of this place is amazing. This must be why a lot of children have their parties here.
To accommodate this, Funland has three packages to choose from – Gold, Platinum, and VIP. For all three packages, the children have unlimited access to games.
Although for Gold and Platinum, the photo booth and vending games are not included. To check the rates, check out the table below.
| | |
| --- | --- |
| Gold | £200/hour |
| Platinum | £300/hour |
| VIP | £350/hour |
3. NQ64 Soho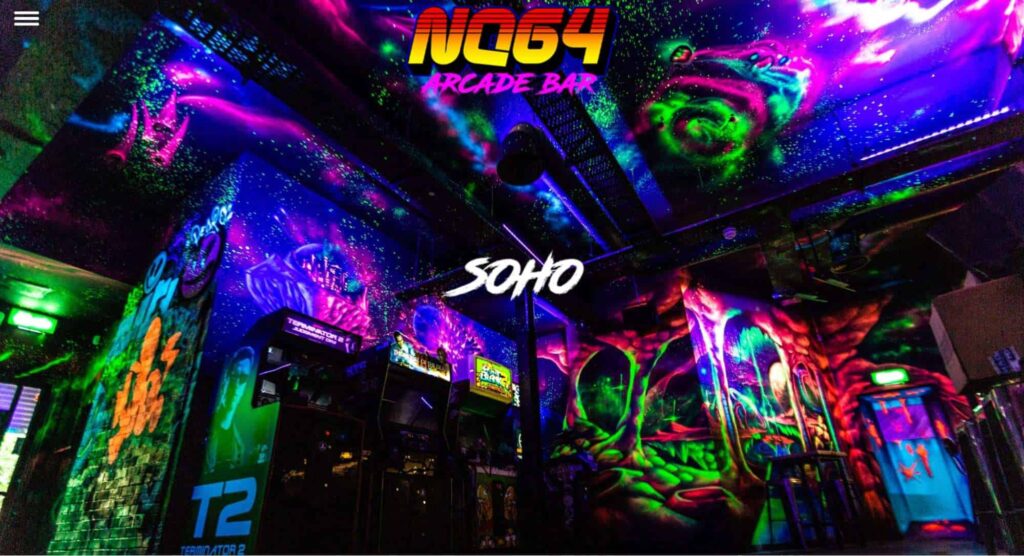 Website: https://nq64.co.uk/soho/
Address: 53 Berwick St, London W1F 8SP, United Kingdom
Contact Details: +44 20 4599 3268
Operating Hours: Monday-Friday(3PM-3AM); Saturday(12PM-3AM); Sunday (12PM-12AM)
Who says adults can't have their fun? This arcade meant strictly for people over 18 has retro games, classic consoles, cocktails, and craft beers all in one place.
NQ64 has no entry fee. However, there is a £5 charge to get into the Soho bar after 11 PM on Thursdays, Fridays, and Saturdays.
We like that they have an ever-changing drinks list. You can ask their bartender for their specialty drinks recommendations.
Enjoy a drink while beating your friend to a good natured game of Tekken. Machines at NQ64 work on a token system, each game is worth one to two tokens to play.
4. Four Thieves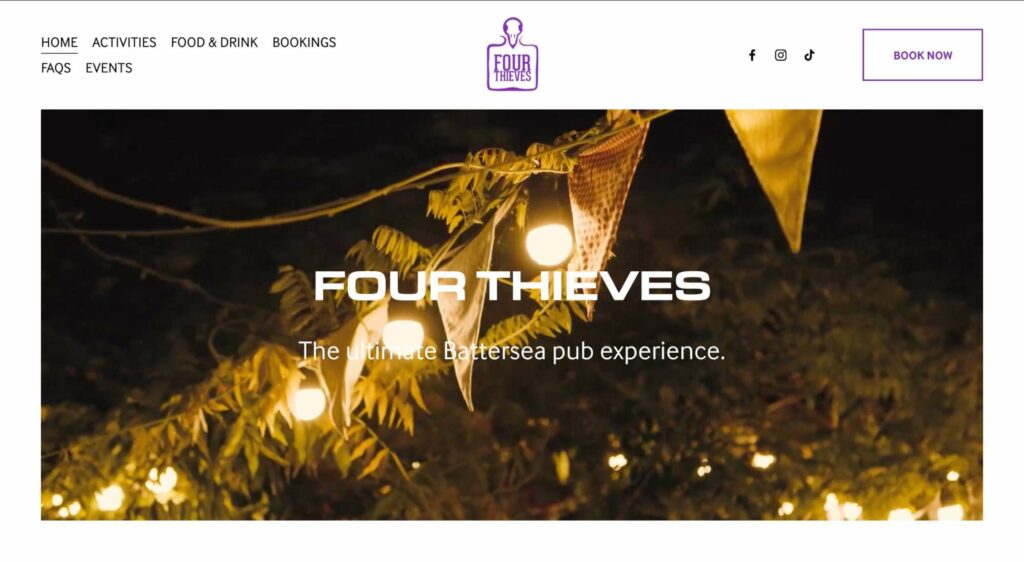 Website: https://www.fourthieves.pub/
Address: 51 Lavender Gardens, London SW11 1DJ
Contact Details: 0207 223 6927
Operating Hours: Monday-Thurs(12PM-12AM); Friday(12PM-2AM); Saturday(11AM-2AM); Sunday (12PM-10:30PM)
Four Thieves is a pizzeria, an arcade, and a mini-raceway, all in one convenient location. It's the perfect place to hang out with friends and family.
Feel the waves of nostalgia with old school arcade games and take a step in the future with their virtual reality games. "Moonshine Raceway", their mini-raceway can accommodate up to 10 drivers at a time.
Aside from different games, adults over 18 can also enjoy some karaoke with their friends. Put on some old school and latest tunes and sing your heart out.
They also offer different packages for food and drinks. Plus, they also offer stand-up comedy acts.
You can book your tickets here. Do know the minimum age to get in is 16.
One of the best parts is that this place is also pet-friendly. So don't be afraid to bring your furry friends along.
5. Four Quarters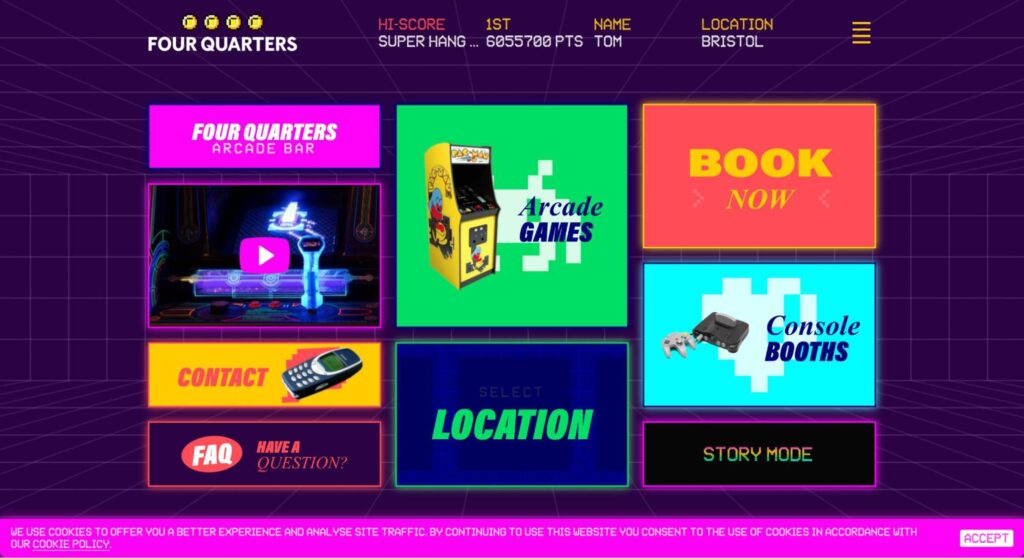 Website: https://fourquarters.bar/
Address: Unit 8, Canalside, East Bay Lane Hackney Wick E20 3BS (Hackney Wick location)
Contact Details: 07722 144780 (Hackney Wick location)
Operating Hours: Monday(3PM-11PM); Tuesday-Wednesday(3PM-11:30PM); Thursday(3PM-12AM); Friday-Saturday(12PM-12:30AM); Sunday (12PM-11PM)
Known as London's original arcade bar, Four Quarters combines nostalgic arcade games and craft beer. We love their vast selection of cocktails, beers, and scrumptious pizza perfect for after-work hangouts.
Do note that their peak times are usually Thursdays to Saturdays, so make sure to book earlier to ensure a slot. They also highly encourage bookings for larger groups.
They operate their arcade games via quarters. You can buy 4 quarters at a cost of £1.50.
We find their prices affordable. It would cost you 1 quarter for each game credit for their usual games and 2 quarters for their pinball machines.
They also have console games which you can use for free if they are not booked. You can also book them if you want to play with them exclusively but you have to pay a fee.
6. Hyper-Reality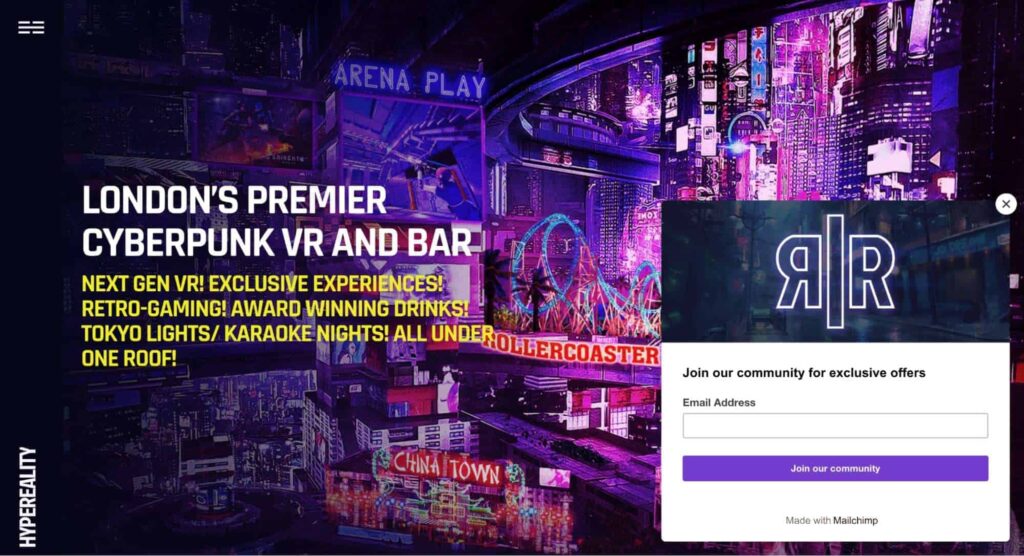 Website: https://hyper-reality.io/
Address: 67 Mile End Rd, Bethnal Green, London E1 4TT
Contact Details: 0207 7907205
Operating Hours: Monday(3PM-11PM); Tuesday-Wednesday(3PM-11:30PM); Thursday(3PM-12AM); Friday-Saturday(12PM-12:30AM); Sunday (12PM-11PM)
If you're a fan of cyberpunk and immersive games, then give Hyper-Reality a chance. Hyper-Reality is a virtual reality bar in London that's known for its extensive range of fun games.
What we love about Hyper is that their staff are experts at VR and passionate gamers as well who can share their experiences and knowledge about VR should you have any questions. They'll make sure you'll make the most of the experience.
They have an impressive list of VR experiences on their website. We have summarised them below:
| | |
| --- | --- |
| The Arena | These are games that are all about scoring, laser tagging, or surviving a zombie apocalypse. |
| Place with No Name | These are immersive games that transport you to another world like no other. |
| Roller Coasters | Who doesn't love thrilling roller coaster rides? |
| VR Go-Kart | A fan of online go kart games? Imagine those but with an added layer of virtual reality. |
You can also enjoy their low-alcohol beers or their award-winning cocktails. They also have a private 10-person karaoke, gaming, and private screening space which they call "The Club".
They don't generally allow walk-ins during weekends (Friday to Sunday) as they are packed with all-access or roadrunner ticket holders. So they highly encourage booking or buying a ticket in advance.
We have summarised their prices below:
Ticket Name
Description
Price
All-Access Experience
2-hour ticket with 1 game in all their VR zones and access to their retro arcade lounge
£30 for off-peak (weekdays)
£35 for peak days/hours (weekends)
Roadrunner Package
1-hour package with 1 experience in the arena, 1 ride on the rollercoaster or a race on the go-karts and access to their retro arcade lounge
£15 for off-peak (weekdays)
£18 for peak days/hours (weekends)
The Club
Karaoke, game, and private screening space
£20 for two people and £8 for each additional person per hour
If you fancy an interesting and out-of-this-world experience, Hyper-Reality is the best place for you!