If you're curious about pottery classes but don't quite know how to start, you've come to the right place. We featured some of the best places to take pottery classes in London in this article.
1. Studio Pottery London
Website: https://www.studio-pottery-london.com/
Address: 29 Eccleston Pl, London SW1W 9NF, United Kingdom
Operating Hours: Tuesday-Thursday (9:30AM–10PM); Friday (9:30AM-8PM); Saturday-Sunday (10AM-8PM); Closed on Mondays
Located in the heart of London, this studio is a place worthy of a mention in this list. The studio is a light-filled and spacious workshop that welcomes both beginners working with clay or experienced artists looking for a place to practice their art.
In their own words, they call their studio "a place of calm and community" and we think it's so apt to describe their space. They have two teaching classrooms, each with six wheels.
Classes here are very intimate and serene. This is perfect if you prefer a tight knit setup for learning.
Their resident potter helps members and students by welcoming them into his private studio for one-on-one throwing and mentoring sessions, which we like.
They even have a full teaching team and a technician to support the growing community in their studio.
In the rear of the studio, you can find the kiln and glazing room. These are monitored by their in-house technician.
For the classes, they have a Tasters class for beginners which is a group session that lasts for 3 hours and costs £130 per person. On the other hand, private classes for any level costs £150 per session.
For intermediate potters, there's also a foundation class which lasts for 2 hours and costs £200. Advanced classes for experienced potters can benefit from the gift of community and enriching sessions.
For three sessions, you'll have to shell out £132. Do note that cancellations made less than 48 hours will be charged the total class fee.
2. Crown Works Pottery and School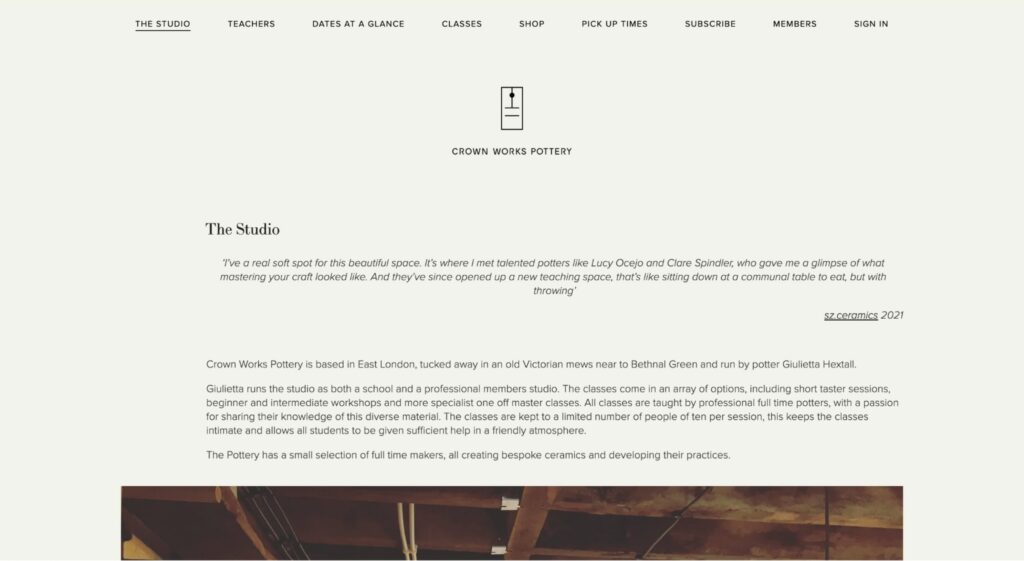 Website: https://www.crownworkspottery.com/
Address: Crown Works, 11 Temple St, Bethnal Green, London E2 6QQ, United Kingdom
Operating Hours: Monday (9AM-5PM); Sunday,Tuesday (10AM-6PM); Wednesday-Friday (9:30AM-5:30PM); Closed Saturdays
Run by potter Giulietta Hextall, Crown Works Pottery and School is a studio located in East London. It's both a school and a professional members studio.
They offer a wide variety of classes such as short taster sessions, beginner and intermediate workshops, and master classes for the more experienced potters. The classes are taught by professional full time potters who love what they do and enjoy sharing their knowledge.
Classes are open to a maximum of ten people per session, ensuring an intimate and hands-on learning experience. They have 13 different teachers, all with their own specialisations and techniques.
You'll have a wide range of instructors to choose from, which we like. To gauge the price of the classes, check out this table below:
| | |
| --- | --- |
| MUG WORKSHOP | HAND-BUILDING | £55.00 |
| FACETED BOWL WORKSHOP | HAND-BUILDING | £55.00 |
| TWO DAY WORKSHOP | HAND – BUILDING | £220.00 |
| ONE DAY WORKSHOP | HAND-BUILDING | £130.00 |
| 5 WEEK HAND-BUILDING | ALL LEVELS | £200.00 |
| WEEKDAY TASTER SESSIONS | 2022 | £60.00 |
| ONE DAY COURSE | 2022 | ALL LEVELS | £150.00 |
| 6 WEEK CLASSES | All Levels | 2022 | £255.00 |
| BOTTLES AND VASES with Clare Spindler | £260.00 |
3. Ceramics Classes London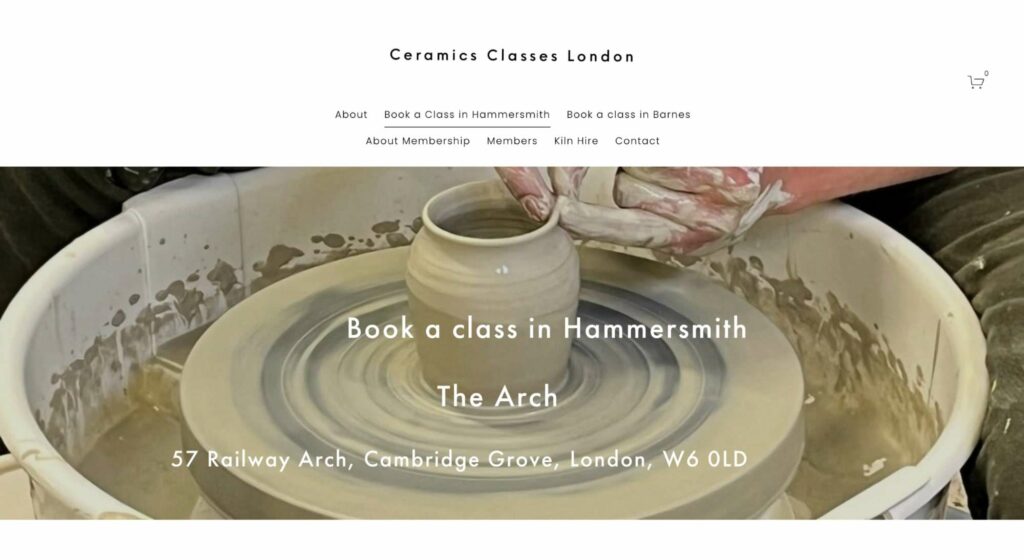 Website: https://www.ceramicsclasseslondon.com/
Address: 57, Railway Arch, Cambridge Grove, London W6 0LD, United Kingdom
Contact Details: +44 7854 518080
Operating Hours: 10AM-8PM daily
This studio is established in 2019, making it a bit younger compared to the other ones on this list. Still, we included them because of their warm welcoming environment conducive for learning.
Courses and taster classes are offered on hand building, sculpture, wheel throwing, and even decorating techniques. For more established artists, they also offer a studio membership.
As for the studio membership, they offer 24 hour access to the studio so you can explore artistically with no time limit. They even have a 524L kiln (18.5 cubic) that can fire up to 1000 degrees and 1260 degrees.
We like that they're open for both beginners and experienced potters. Zoe Lloyd, the founder of Ceramics Classes London, is a specialist teacher of SEN and art therapy and holds a Masters degree in Ceramics.
They have a variety of classes available like their 4-week and 8-week courses, private throwing sessions, Tasters, and summer courses.
4. The Clay Garden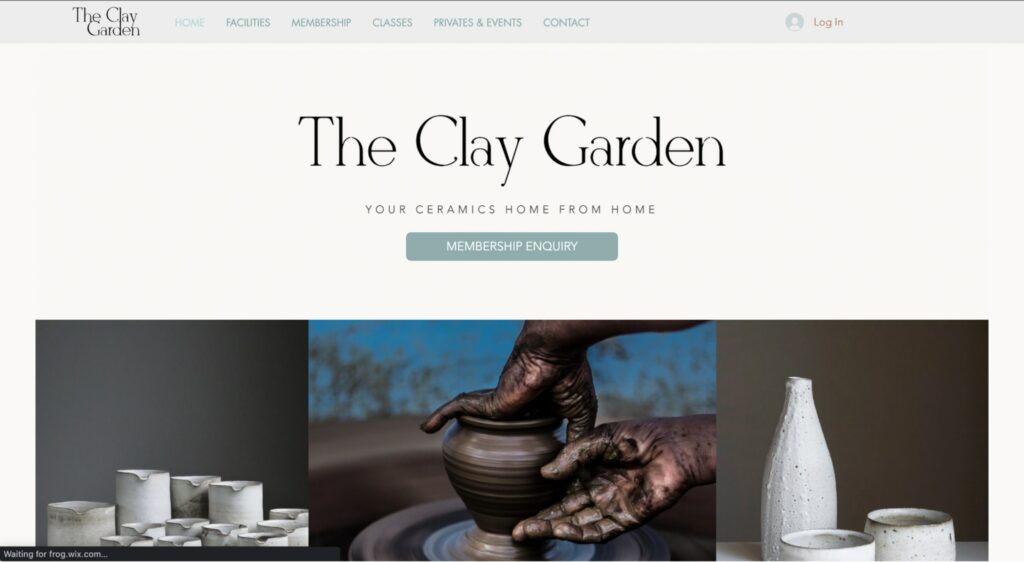 Website: https://www.theclaygarden.com/
Address: Railway Arch, 63 Cambridge Grove, London W6 0LD, United Kingdom
Operating Hours: Sunday (11AM-9PM); Monday (10AM-10PM); Closed on Tuesdays; Wednesday-Thursday (10AM-10PM); Friday (10AM-9:30PM); Saturday (10AM-9PM)
This warm and bright studio is a must visit! Located just 5 minutes from Hammersmith tube station, it's a serene and very friendly home for makers to come together and create, get to know other people, and be enriched through art.
They offer a range of memberships and pottery classes that you can enjoy. They have 12 wheels, 2 large kilns, an extruder, a slab-roller, and ample shelving and tools for all your pottery needs.
Their ethos simply in their own words is to "steer away from the standard utilitarian studio model and provide a beautiful environment artists would feel compelled to spend their days within, surrounded by inspiration and the feeling of home". We think they embody this fully.
For their classes, they have private lessons, a ceramic sampler, a 5-week beginner course, a 10-week beginner, intermediate, and progression class, and other workshops coming soon for both kids and adults.
5. Jose Carvalho – Pottery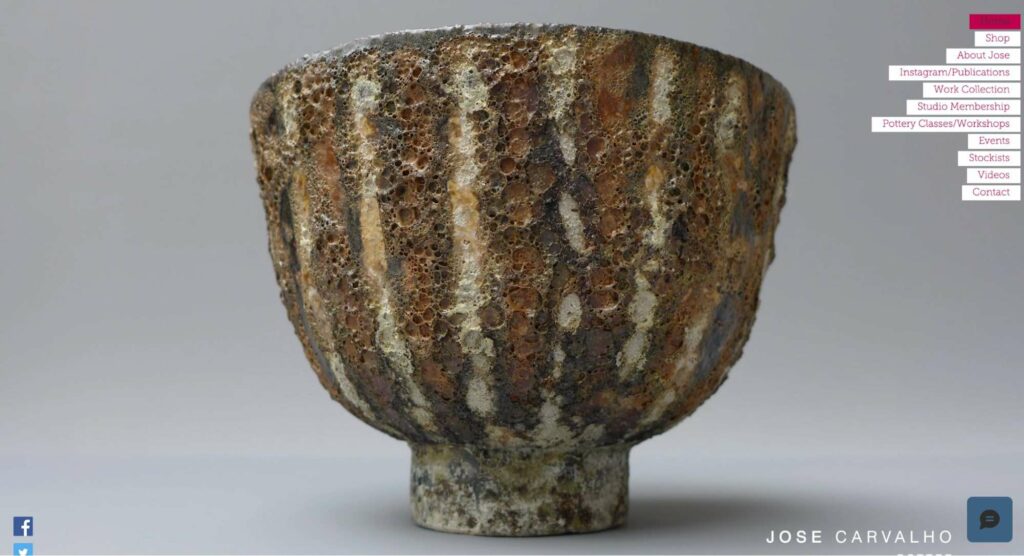 Website: https://www.josecarvalhoceramics.com/
Address: 250 Goldhawk Rd, London W12 9PE, United Kingdom
Operating Hours: Monday-Friday (9:30AM-6:30PM); Closed on weekends
This studio was established by Jose Carvalho, a full-time potter who studied ceramics at Sands End and Masbro College. If you want to look at his works, you can check out his shop.
This studio, like the others, offers studio memberships for more experienced artists. For those who want to learn pottery, they also offer private pottery sessions.
However if you want group classes, it might be best to check out the other studios on our list. What sets them apart, however, is they offer private pottery sessions for parents or guardians and their child, which is a nice bonding activity.
They also have a children's online pottery club perfect for your little ones. There they can learn the basics of hand-building in pottery in the safety of your homes.
6. Fiona Veacock Ceramics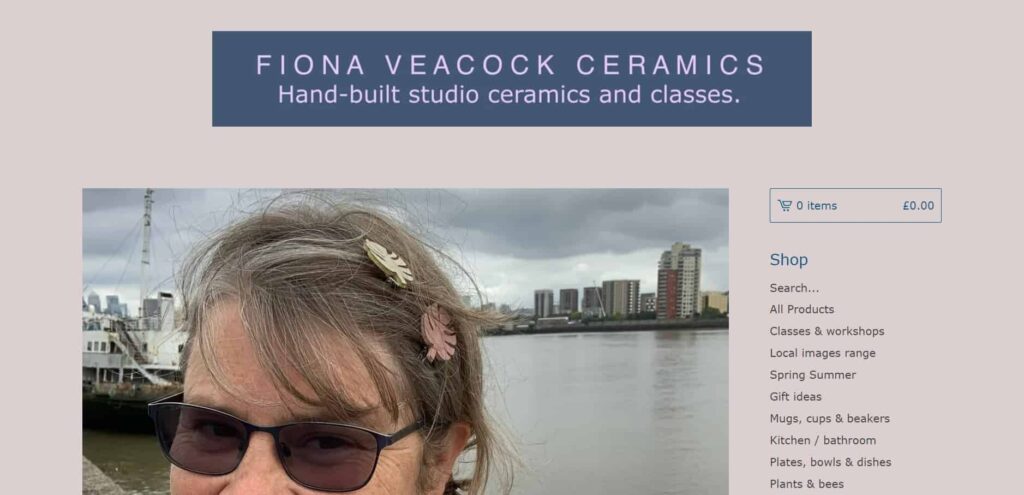 Website: https://fionaveacockceramics.bigcartel.com/
Address: 30, Thames-Side Studios, Studio TB, Harrington Way, Warspite Rd SE18 5NR, United Kingdom
Operating Hours: 24/7
Fiona Veacock Ceramics is a shop that provides its clients with both ceramic products and know-how on how to craft the said items in a holistic and positive manner in a schedule that is most convenient for clients.
Headed and operated by Fiona, past clients who have wired with her commended her for her effective and collaborative way of teaching that is engaged individuals of all ages to not only learn but also have fun in the process.
Furthermore, each of her creations is made from quality products and each is handmade to ensure clients of not only the authenticity of the product but also that it is well-made and delivered in a secure manner all throughout.
Note though that since each product is individually-made, there might be slight discrepancies in design from that those seen on their online shop that clients may need to be aware of.
Overall, with their accommodating and knowledgeable team of personnel, and well-equipped and greatly maintained studio, we highly recommend that clients in the area check them out.
7. Melisa Dora Ceramics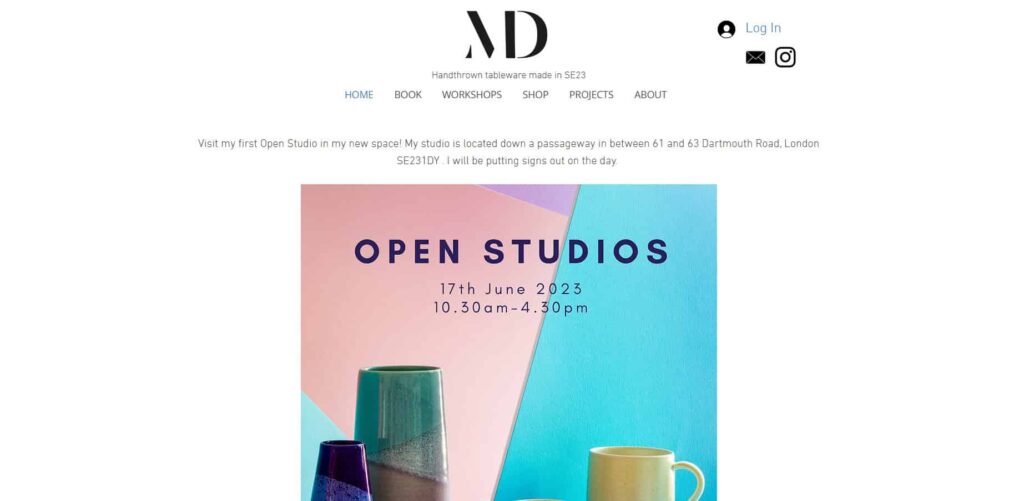 Website: https://www.melisadora.com/
Address: Forest Hill, SE London SE23
Operating Hours:
Melisa Dora Ceramics is a vibrant studio led and founded by Melisa Dora who provides clients with an excellent array of outstanding and colorful ceramic pieces. Graduated back in 2010 with her Master's Degree in ceramics and wood class, she has since then been sharing her passion with her clients through both her products and services.
We like that the studio has an upbeat and natural ambiance to it that is best suited not only to displaying Dora's selection of stellar and fun ceramic work but also as an exemplary place to hold ceramic workshops as well.
Furthermore, we like that all of the pieces are not only aesthetically appealing but also very functional and durable which they are fired to stoneware as an assurance of their overall quality and performance upon usage.
Note though that they only accommodate only 6 participants per workshop and/or class which clients may need to book in advance to ensure that they can get the best slot for their schedule.
Nonetheless, with their exemplary team of teachers for their workshops, presentable and durable products offered, and inclusive morning and afternoon classes, we highly recommend interested clients to check them out.
8. Turning Earth E10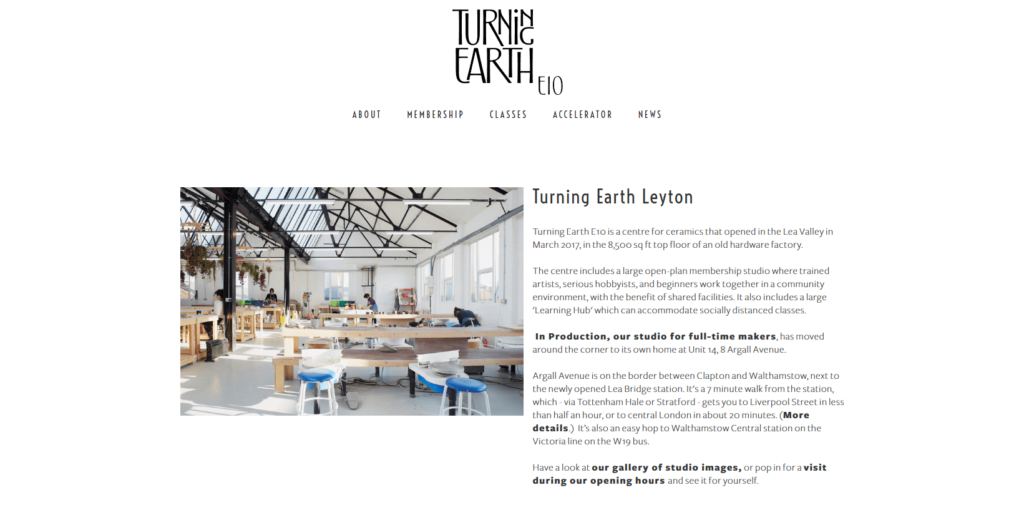 Website: https://www.turningearth.org/e10 
Address: Top floor
11 Argall Avenue
London E10 7QE
Operating Hours: 
Tuesday: 10am – 10pm
Wednesday: 10am – 10pm
Thursday: 10am – 10pm
Friday: 10am – 8pm
Saturday: 10am – 8pm
Sunday: 10am – 8pm
Turning Earth E10 offers a large open-plan membership studio where artists, hobbyists, and beginners can work together.
This community environment encourages collaboration and the exchange of ideas among individuals with varying levels of expertise, and this is what we love about the place!
We like that it's a shared space because we think the benefit of shared facilities is a significant advantage for members and students. Access to well-equipped studios and equipment can be cost-effective for individuals who may not have their own pottery equipment.
We also find it to be a relaxed and welcoming studio where there's a diverse and inclusive environment where individuals of all skill levels, from beginners to trained artists, can feel comfortable and supported in their pottery endeavors.
---
That concludes our list of best studios for pottery classes in London. We hope we were able to help out those who are interested in this hobby.
Did we miss out on any studios? Let us know in the comments below!
By the way, check out the following articles too for more to do in London: